Coat of Arms
William & Mary was the first American institution of higher learning with a royal coat of arms. It was issued on May 14, 1694 by the College of Arms in London. The buildings featured are not modeled on buildings at William & Mary as the coat of arms was received before construction of the Wren Building in Williamsburg was begun.
The coat of arms, while not used as the everyday logo to represent the university, is still used in certain ceremonial contexts. It can be seen as a hanging display at traditional ceremonies such as Charter Day and Commencement. It also appears on university diplomas, the university mace and on regalia.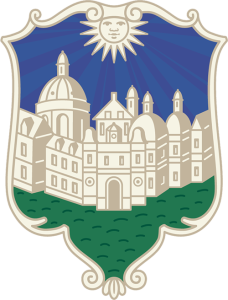 Wythe Seal
The Wythe Seal (or Jeffersonian seal) was first presented to Governor Benjamin Harrison in early 1784 and was used through the 1920s. The correspondence of James Madison mentions that the seal was conveyed to Williamsburg by George Wythe in 1783. Wythe was in Williamsburg and affiliated with William & Mary at the time the second seal was designed. Wythe had a hand in designing the Virginia state seal, which includes a phoenix as seen on some versions of the second seal.
The Wythe Seal is not used to represent William & Mary in the modern day. One exception to this was made when the Wythe Seal was used on a Civil War commemorative plaque due to its use as the main university mark during the Civil War.